Grandior won one of the most popular awards among the more than 40 million monthly users on Houzz!
"Best Of Houzz" is people's choice award on Houzz. Each year the prestigious Best of Houzz Awards are presented to many of the top-rated professionals and popular home designs across United States and around the world.
GRANDIOR KITCHENS & BATHS of BALTIMORE
Awarded Best Of Houzz 2018
Over 40 Million Monthly Unique Users Nominated Best Home Building,
Remodeling and Design Professionals in North America and Around the World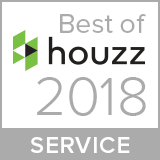 GRANDIOR KITCHENS & BATHS of Baltimore has won "Best Of Customer Service", on Houzz, the leading platform for home remodeling and design. The luxury home design firm was chosen by the more than 40 million monthly unique users that comprise the Houzz community from among more than one million active home building, remodeling and design industry professionals.
The Best Of Houzz is awarded annually. Customer Service award winners' work was one of the most popular among the more than 40 million monthly users on Houzz. Customer Service honors are based on several factors, including the number and quality of client reviews a professional received in 2017. A "Best Of Houzz 2018" badge will appear on winners' profiles, as a sign of their commitment to excellence. These badges help homeowners identify popular and top-rated home professionals in every metro area on Houzz.
IT'S THAT LITTLE "EXTRA" THAT TURNS THE ORDINARY INTO THE EXTRAORDINARY
"The Houzz community selected a phenomenal group of Best of Houzz 2018 award winners, so this year's recipients should be very proud," said Liza Hausman, Vice President of Industry Marketing at Houzz. "Best of Houzz winners represent some of the most talented and customer-focused professionals in our industry, and we are extremely pleased to give them both this recognition and a platform on which to showcase their expertise."
About Grandior
We are an award winning full service kitchen & bath interior design showroom and a residential & commercial interior design firm located in Cockeysville, Maryland.
Grandior, led by award-winning designer Daniel Khoshkharaman, creates sophisticated interiors that are luxurious, refined, and with a touch of the unexpected. Dynamic eclecticism is the hallmark of the Baltimore-based firm, whose work forges a perfect balance between timelessness and today. At the heart of every project is the belief that the best design expresses personality and place. The resulting environments are inviting, delightful, and above all resolutely livable.
Our philosophy is led by a desire to create exceptional spaces for our clients. We believe in the power of design freedom. The freedom to choose and compose any color you wish on an endless array of materials and applications. Our personalized approach sets us apart from the competition, since we look at every project from an architectural, planning and interior design perspective. This unique combination will ultimately result in your total satisfaction, since no part of your overall project will be overlooked.
ARE YOU READY TO START YOUR REMODELING PROJECT?
Sign up for a FREE in-store consultation today. Let us bring your dreams to reality.