BLANCO introduces the first ever SILGRANIT® apron front sink. The revolutionary IKON Apron Front Single Bowl breaks ground with its ability to offer a highly sought after aesthetic with the unmatched quality, color selection and resilience of SILGRANIT.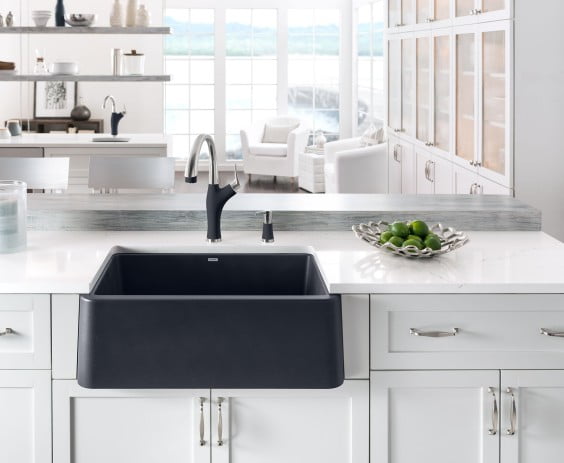 The perfect combination of design, function and durability, the innovative IKON features a sophisticated apron front design with a traditional wide radius and robust 1.5" rim. BLANCO also offers a unique custom-fit Floating Grid accessory for use with the IKON, which rests along the walls of the sink and can be used as an additional workstation for prepping and cleaning, or as a trivet on the countertop. Since the grid is not needed to protect the sink surface, it floats gently above the sink bottom (above debris and water) to be used as a multi-tasking work area that's clean and easy to reach.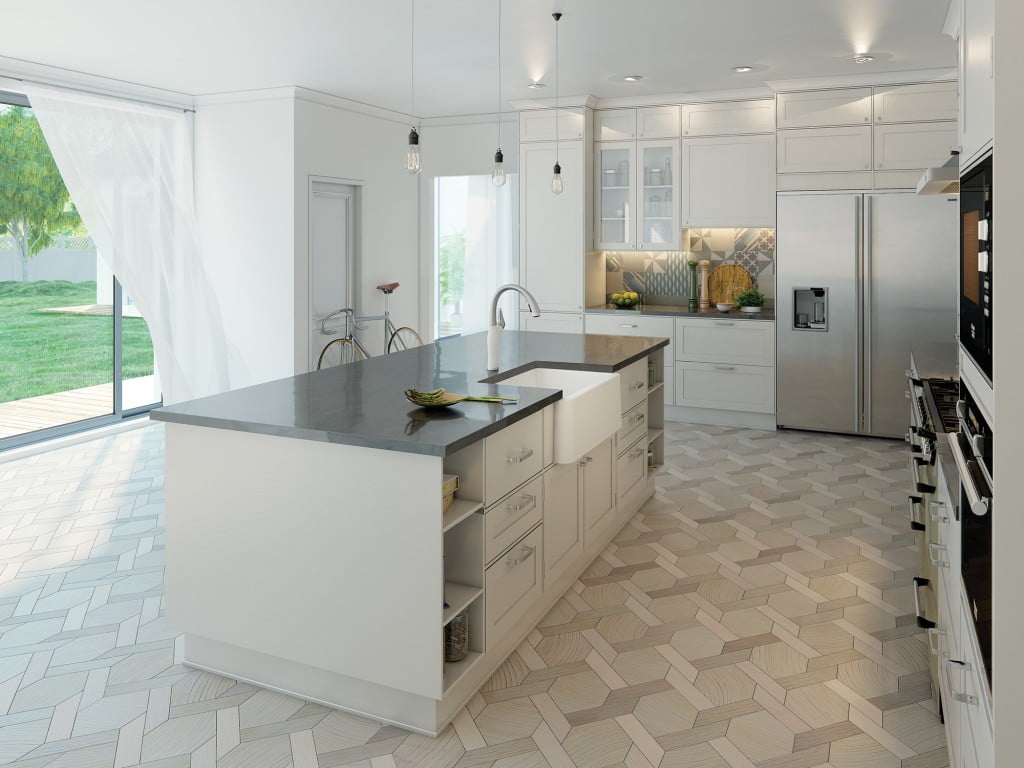 "Our goal with the creation of the BLANCO IKON was to once again raise the bar for innovation in kitchen sink fixtures," states Tim Maicher, Marketing Director for BLANCO. "After years of research, our engineers were able to deliver what was thought a technical impossibility – a true granite composite apron front kitchen sink. BLANCO is the undisputed leader in granite sinks for more than three decades, and with IKON, we now offer apron front sinks in three materials – steel, fireclay and for the first time, SILGRANIT."
The BLANCO IKON is available in three on-trend neutral colors, Anthracite, White and Café Brown. The custom-fit floating grid is expertly designed to handle the weight of pots and pans, while gently resting along the IKON's inner walls to provide added comfort while prepping and cleaning.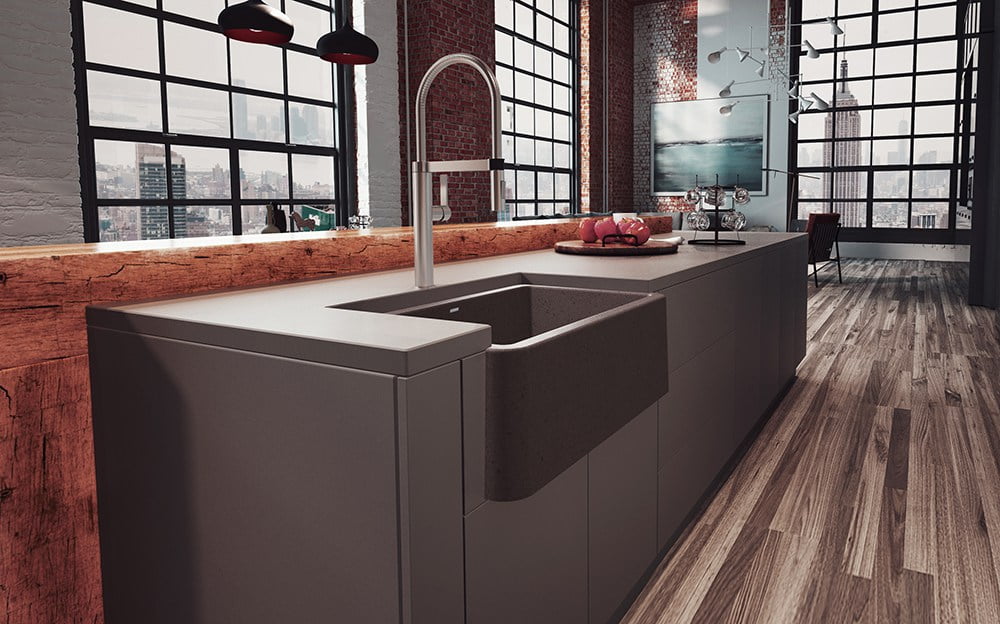 About BLANCO SILGRANIT
With the most colors, designs and durability, BLANCO has been the leader in granite, granite-like and composite sinks since 1981. For a generation, BLANCO has continuously developed and perfected our own exclusive industry-leading SILGRANIT material, which now features a new, smoother surface that is easier to clean. SILGRANIT sinks are beautifully designed and scientifically proven to be scratch, stain and heat-resistant, which makes the IKON apron front sink extremely durable. The sink is one of the most heavily used areas of the kitchen – and apron front sinks experience more contact than traditional under-mount sinks. The science behind SILGRANIT offers a level of protection that ensures that the apron front on the IKON won't scratch, and will maintain its beauty after years of use.
IKON™ Details:
30" Apron Front Single Bowl
Three color offerings:

Anthracite
White
Café Brown

Dimensions

5" Rim
9 ¼" Bowl Depth
10" Apron Depth
Undermount Installation

SILGRANIT benefits

Rock hard granite durability
Heat resistant up to 536° F
Unsurpassed cleanability backed by industry leading 7 patents!
Resistant to scratches, stains and all household acids and alkali solutions
Limited Lifetime Warranty
READY TO START YOUR PROJECT?
Don't wait! Fill out the form below and get started. Let us bring your dreams to reality.
If you wish to learn more about our made in USA wood countertops and butcher block countertops, call us at 410-415-1451 or request a quote online. You can purchase with the confidence of knowing we will be here should you require any additional support. We are experts in the kitchen & bath industry.