Corners are problematic, especially in kitchens where functionality and space-efficiency are crucial. We've identified this problem a long long time ago so by now we've come up with some pretty great ways to deal with it, a lot of them having to do with corner kitchen cabinets. Curious to find out how you too can optimize your kitchen's design? Check out our top kitchen corner cabinet ideas to find out more about each type.
Every cabinet — especially the sometimes overlooked blind corner — is an opportunity for storage greatness. From base cabinet solutions which bring the contents out to you to options which spin above and below, there's plenty of functionality you can bring to your next project.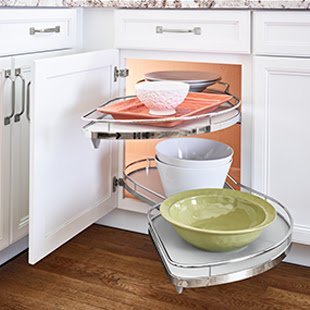 LeMans
There's an excellent reason why the LeMans Sytem is one of our best-selling kitchen products: customers never need to be on their hands and knees with a flashlight again to retrieve items in their kitchen's blind corner cabinet. In one fluid motion, each 55 lb. load-rated shelf comes out and can easily store bowls, kitchen staples or anything else. These units are available in left- or right-handed configurations and a variety of colors and finishes. Also, don't forget the standard soft close.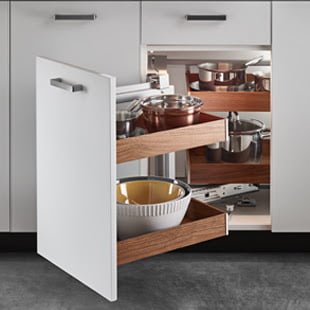 Magic Corner I & II
No more blindly reaching for things you can't see. The Magic Corner I is mounted to the cabinet door while the Magic Corner II allows the door to swing open and has a handle built into the carriage. Both are available in left or right swing configurations and your choice of champagne or silver carriages for a wide variety of cabinet openings.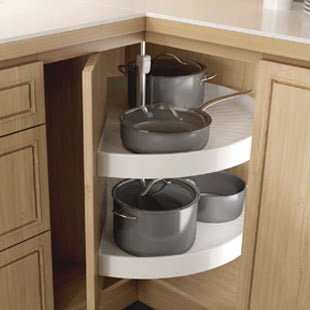 Lazy Susan
The Lazy Susan is a classic which simply never goes out of style. Available in your choice of pie-cut, kidney or full round shelf sets, the Lazy Susan is absolutely no slouch when it comes to ease of access for anything you'd like to store in your base corner cabinetry. Ours has been tested to 100,000 cycles and is offered in sizes from 18" – 32" for all your storage needs.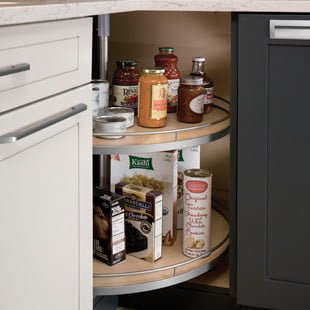 Suzie-Q
The Suzie-Q is an update to a classic design. Available for all styles of cabinetry, the Suzie-Q spins two shelves and also closes itself as it revolves. Fittings are available in white or champagne finishes with a choice of maple/champagne, maple/chrome, white/chrome or gray/chrome trays.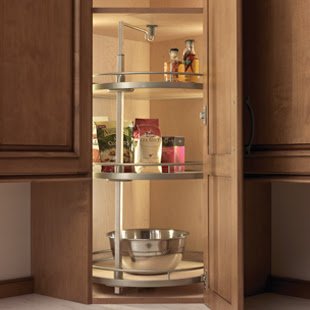 Twister
Sure you've seen base cabinet corner storage but how about something which brings dynamic storage to upper corner cabinets? We have you covered there too with the Twister. Uniquely designed with an offset post, the Twister allows for maximum storage of larger items across either two or three shelf configurations. The shelves are even height adjustable which means you have the ability to customize storage based on your needs.
ARE YOU READY TO START YOUR REMODELING PROJECT?
Sign up for a FREE in-store consultation today. Let us bring your dreams to reality.