Wood countertops, butcher block countertops, wood bar tops, and solid wood tables are visually rich and warm to the touch. These natural beauties are great addition to your house or restaurant. Here's how to determine if they'll work in your space.
After being eclipsed by showy stones like granite and marble and maintenance-free engineered materials like quartz and solid surfacing, natural-wood countertops are enjoying a real revival. Constructed from pieces of hardwood laminated together with glue for strength and stability, they provide a warm, organic landing surface in a kitchen, one that is wonderfully forgiving, gentle on dishware, and able to absorb the noise of a busy household. Wood can also be revived if damaged; if it gets dinged, stained, or gouged, you can refinish it.

The majority of wood countertops are made from traditional butcher block, and while they may see some mild meal prep, they're rarely used for chopping these days. They're favored more for their looks. Less expensive woods often line the kitchen as a handsome, budget-friendly surface; pricier species top islands or breakfast bars, where they provide a welcome textural contrast or a furniture-like finish. The variety of woods available is impressive, from subtly grained maple to deep, rich walnut to dramatic mesquite to exotic iroko. Yes, wood is a good choice, but it does require some attention.
At Grandior, we offer Grothouse custom wood countertops. Grothouse wood countertops and solid wood surfaces are crafted from a virtual forest of wood choices and an array of edge profiles, and design options. The butcher block countertops are sealed with Grothouse Original Oil™ finish and perfect for an aesthetic and functional food preparation surface. Grothouse wood bar tops are used in commercial and residential bars throughout the United States. Their exclusive Durata® Finish assures a protective waterproof surface. All items are custom made in the USA by our master craftsmen. Explore their website and learn more about the offerings.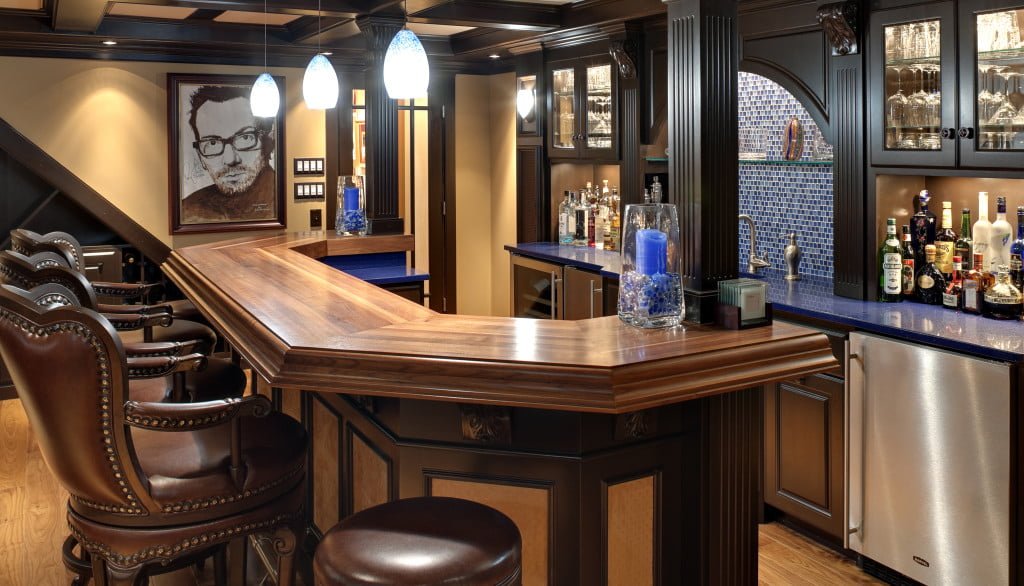 Grothouse offers more than 60 wood species, all of which are available within our standard 2-3 week lead time. Click here to see some of our most popular wood species. If there is a specific wood you would like to request, please ask us. We can obtain nearly any wood imaginable!
Wood Pricing Levels
Low Price Level: American Beech, American Cherry, Ash, Knotty Alder, Red Oak
Moderate Price Level: African Mahogany, Birch, Black Walnut, Brazilian Cherry, Bubinga, Butternut, Eucalyptus Grandis, European Beech, Hickory, Iroko, Lyptus, Maple, Padauk, Red Oak Quartersawn, Santos Mahogany, Sapele Mahogany, Superior Grade Alder, Tigerwood, White Oak Flatsawn, White Oak Quartersawn
High Price Level: Bolivian Rosewood, Burmese Teak, Cocobolo, Curly Anigre, Genuine Mahogany, Plantation Teak, Wenge, Zebrawood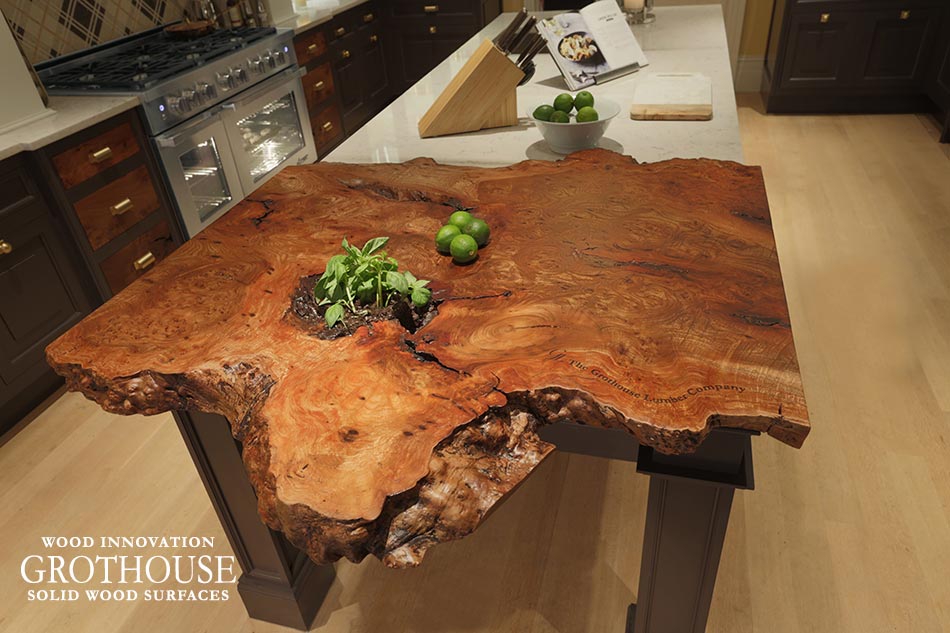 Reclaimed Countertops | Green Products
Our countertop green options include a variety of FSC certified products. Our live edge wood counter tops can be crafted from a variety of wood species, and we do stock live edge Black Walnut boards. Our reclaimed countertops are crafted using reclaimed wood from dismantled 18th and 19th century Pennsylvania Barns and homes.
Unique Designs | Innovative Options for Wood Counters
We are constantly innovating and creating new items and options for creating signature custom pieces. Options like engraving, carved bowls, and custom stain matching are just a few of the features that can be incorporated into your solid wood surface. Visit our showroom to design one of a kind wood counters.
Lead Time | Warranty
Grothouse butcher blocks and surfaces grace some of the finest homes, commercial bars and restaurants in the nation. We ship worldwide in 2 to 3 weeks (10-15 business days) and our tops arrive with a comprehensive lifetime warranty.

Frequently Asked Questions about our Custom Wood Countertops, Butcher Block Countertops and Bar Tops
What is the advantage to having a waste hole in a wood countertop?
Wood countertops with waste holes increase the functionality of your kitchen. Countertops with this feature are typically used for direct chopping. This feature creates a food preparation space that is self-contained and helpful in busy kitchens with multiple cooks. The scraps are quickly swiped into the hole for efficient waste disposal without unnecessary steps to a nearby trash can. They are most commonly incorporated into butcher block (end grain) countertops.
Do you also install a receptacle under the wood counter for the waste?
A stainless steel bin can be incorporated into the waste hole that lifts out for emptying or cleaning if no receptacle is in the cabinetry below. The bin has a rim that sits on a routed lip on the opening. Some waste holes are simply holes cut into the butcherblock that empty to the trash can below. Designers also incorporate stainless steel compost drawers below the hole.
What is the best size for a waste hole in a butcher block countertop?
A 6″ diameter hole is sufficient for most kitchens and our most popular. However, the ideal size can vary on the kitchen design and layout.
Does a waste hole come with a lid?
Trash holes can have lids if requested. The lids cannot be made with the hole cut out as the cut out piece is too small due to the width of the blade used to cut the opening. The holes can be crafted with a custom lid if desired. This element of customization can add a decorative flair to your well-organized work space.
Can a waste hole be done with any type of wood countertop?
Yes, Grothouse offers over 60 wood species and trash holes/lids can be incorporated into any wood.
What is the advantage of a waste hole in a wood countertop over a garbage disposer?
Homes with septic systems often cannot utilize garbage disposers so this is an ideal alternative. In addition trash holes allow the collection of organic materials for composting.
What is the best construction style for cutting or chopping?
The best construction style for cutting or chopping is end grain construction, which is far more forgiving on knife edges and does not readily show knife marks. Rather than cutting across the grains of wood, end grain construction allows the blade to slide between the grains of wood, keeping the blade honed far longer than other cutting surfaces. End Grain construction is incredibly durable, stylish and functional. Cutting boards of yesteryear were produced in this construction style for a reason: because they last.
Is wood safe to use as a cutting surface?
Yes, wood is perfectly safe to use for cutting or chopping. In fact, studies have shown that wood is actually safer to use than plastic. Research indicates that bacteria, such as the salmonella often found on raw chicken, will thrive and multiply if not removed from plastic boards. On both new and used wood cutting surfaces, the bacteria dies off within 3 minutes. Researchers theorize that the porous surface of the wood deprives the bacteria of water, causing them to die.
You should, however, always be diligent in cleaning any cutting surface. Scrub your wood top or cutting board clean with soapy water and a small amount of bleach after cutting foods such as raw meat or poultry, and recoat regularly with a light covering of Grothouse Original Oil to maintain a lustrous look. All of our wood tops include FDA approved glues and are hand rubbed with The Original Oil to assure that no unsafe chemicals are used in the construction of your cutting boards.
Why should I choose Grothouse for my wood countertop?
At Grothouse, we strive to bring the highest quality to everything we do, from our customer interactions to the construction and delivery of our wood tops. Each custom-built top utilizes the best possible raw materials, and our skilled craftsman labor over every detail, from the initial wood selection to the final finishing process.
We understand that you want a one-of-a kind product for your home. At Grothouse, we work with each of our customers individually to offer them a finished product that reflects their personal tastes and preferences. Not only that, but we stand behind every product we make with a lifetime warranty. In fact, our Durata® permanent finish is the highest rated finish on the market today, giving you years of maintenance-free service.
Can I put hot pans directly on the surface of my wood top?
We generally recommend that pots or pans straight from a burner should not be placed on the surface of a wood top. The heat can burn the wood, steam glue joints, cause cracking, or create bubbles in the permanent finish. For customers with a cooktop in or near their wood top, Grothouse does offer integrated trivets as an optional feature. The trivets make the ideal resting place for hot pots and pans, and are completely removable and dishwasher safe.
Can I cut or chop on a top that includes the Durata® permanent finish?
Tops with our Durata® permanent finish should not be used for cutting or chopping. While the finish is FDA approved for indirect food contact, cutting will leave knife marks and destroy the surface over time. The surface is perfectly suitable for rolling dough, pasta, or other similar food preparation activities. If you intend to use the surface for cutting or chopping, though, we recommend Grothouse Original Oil.
Will my wood top withstand water and stains?
Our Durata® permanent finish is water resistant, stain resistant, and chemical resistant. It is ideal for applications that include overmount or undermount sinks. Tops finished with The Original Oil will need regular maintenance, and standing water should be avoided. Spills should be wiped up immediately to avoid staining.
Is the Durata® finish available for retail sale?
The Durata® permanent finish is a proprietary formulation that is only available on products manufactured by Grothouse. It is not available as a standalone product.
How often do I need to re-oil my top?
Tops finished with The Original Oil will need to be re-oiled approximately once per month, depending on use. Heavily used tops may require more frequent oiling. Simply coat the top lightly with oil using a paper towel or rag, allow the wood to absorb the oil for 5 – 10 minutes, and then wipe off any excess oil.
READY TO START YOUR PROJECT?
Don't wait! Fill out the form below and get started. Let us bring your dreams to reality.
If you wish to learn more about our made in USA wood countertops and butcher block countertops, call us at 410-415-1451 or request a quote online. You can purchase with the confidence of knowing we will be here should you require any additional support. We are experts in the kitchen & bath industry.