Beautiful, functional and comfortable homes mean so much to our clients. That is why they hire us. And we, of course, deliver—just like we always do. We take cramped out-moded kitchens and baths and make them more beautifully livable.
We are all witnessing the extraordinary impact of the coronavirus, COVID-19 and how it disrupts our daily lives. Now that your spending more time at home, when our designs are more deeply appreciated than ever, you're taking a closer look at where you live. And it's become obvious, there are many improvements that you could make to your home to increase its safety, add comfort, and enhance its beauty. So as you look around your home and see what needs to be changed, the next step is to find an expert to advise you on how to safely plan the transformation of your house into Your Home For Life. You can get that advice and expertise from Grandior.
The Kitchen is the heart of the home
It is true. Whether small or large, the kitchen is the hub of the home. It is where the meals are created – it fuels the bodies, minds and souls of friends and families all over the world. While life may be created in the bedroom, it is certainly lived in the kitchen.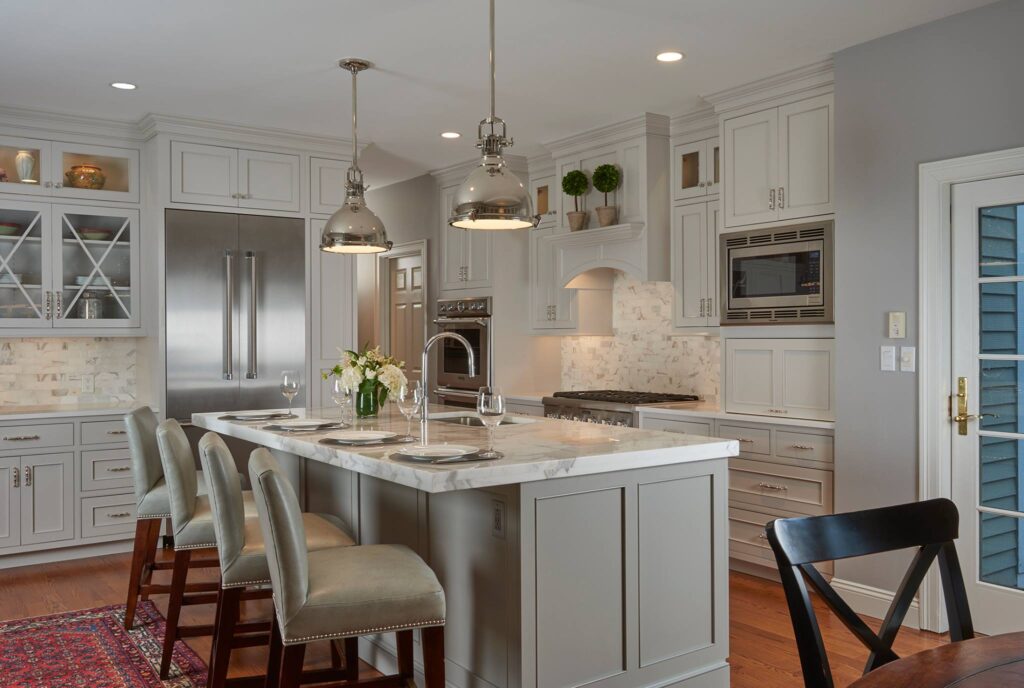 Lifestyle influences
Much of the importance of this room seems to depend on the size of the kitchen, the family, and on lifestyle. In older homes, kitchens were smaller, separated and removed from the rest of the home. It was a contained space used almost exclusively for cooking that could be closed off to conceal the mess. Family and friends would eat and congregate in the dining and living rooms that were situated nearby. In older homes more importance was given to the dining and living rooms. Kitchens were utilitarian and that was about it.
The importance of kitchen size today
Today the importance of a good sized, productive kitchen is vastly important. It is, according to many, the most important room of the house. In the eyes of realtors it certainly is. A house's resale depends greatly on its kitchen. Its location and functionality are key. Older kitchens must be made to look newer, more streamlined and more modern. For resale purposes, it is not unheard of for sellers to bring in new accessories, paint and appliances to help the sale. Many buyers, when considering an older home with a smaller kitchen, immediately look into renovation possibilities that may include a remodel, expansion, or blowing out a wall to create a more open feel. As our lives become more casual, our homes are as well and the walls are literally coming down all around us.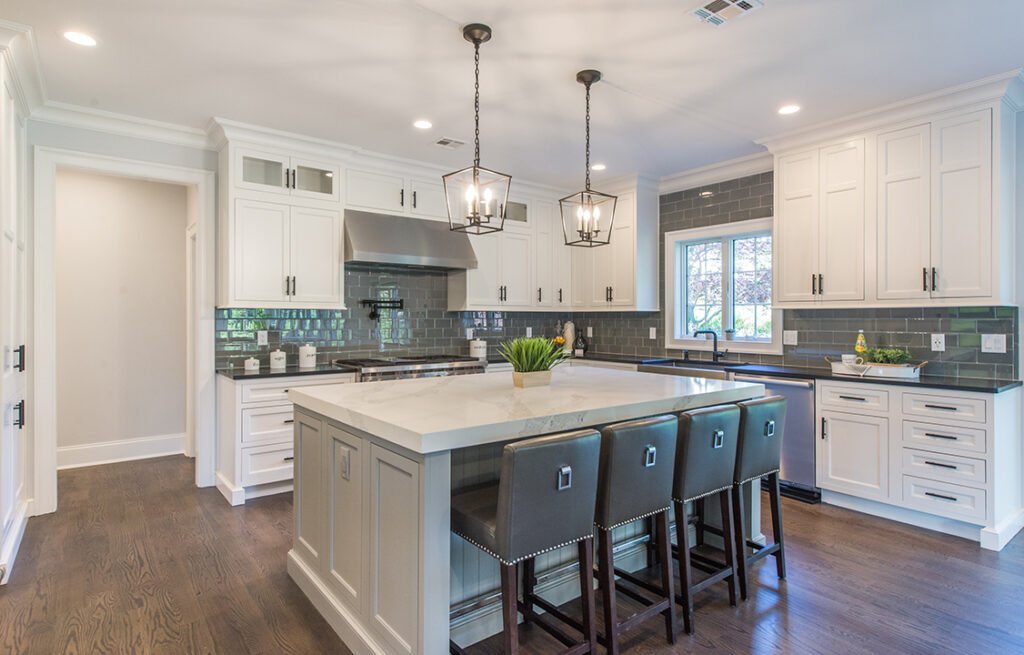 Today's kitchen is much more than a kitchen
Newer kitchens, while called kitchens, are really so much more. Today's kitchen is today's family living space. These large rooms house several areas within. There is the kitchen area – the designated cooking space – thoughtfully, carefully planned and laid out. Then there's the dining area within the kitchen, usually large enough to comfortably seat 4 or more, and finally, in many of these larger kitchens, is the sitting area, so that in effect, the whole family can hang out together while cooking, working or relaxing. Many new homes embracing the more casual lifestyle are being built without a dining room or formal living area. For those who enjoy entertaining and do so often, even the homes with formal dining and living areas find that the crowd usually gathers in the kitchen.
Size does matter
So clearly size does matter. The kitchen is the most important room of the home. Those with smaller kitchens tend not to think that these rooms are the most important – necessary but not most important. Those with larger ones absolutely believe them to be the most important space in their home. Lifestyle is a large influence as well. Those who enjoy cooking and entertaining view the kitchen as an important and integral space – contributing greatly to family life, even if the space is not large enough to be "lived in." For these people kitchen efficiency is very important. For families where cooking and eating is very much a part of their lifestyle and tradition, cooking, teaching, sharing recipes, and passing them down from generation to generation is important to many – and this is done in the kitchen, regardless of size, with the belief that cooking with a child, or as a family, is an important moment in family life and not to be dismissed or taken lightly.
Now is the perfect time to plan a project.
Give us a call and we'll take you through our unique Grandior design process. Plan your project now and we'll have it ready for you to pull the trigger when you are ready. Our goal is to make remodeling easier and planning now will save money later.
At Grandior Kitchens Baths & Closets we understand the concern that our community feels. That's why we are closely monitoring and practicing the safe practices set out by the CDC. If these safeguards change, Grandior will adapt to ensure a safe construction environment is maintained.
We invite you to contact us with your ideas and vision for the transformation of your home. Kitchens have never been more important than they are right now. We want to help your family make the most of them. Now is the perfect time for planning. Make the most of it.
ARE YOU READY TO START YOUR REMODELING PROJECT?
BOOK YOUR COMPLIMENTARY IN-STORE CONSULTATION TODAY!
LET US BRING YOUR DREAMS TO REALITY.