CUSTOM SHOWER ENCLOSURES
Our GlassCrafters' Shower Door product lines offer exquisite craftsmanship with attention to detail, superior functionality, and a range of aesthetic choices to reflect your style. We believe that by incorporating the look of fine shower enclosure into your bathroom, we are able to create an oasis from the day and enhance the beauty and elegance of your home or commercial property.
Passion and dedication to creating and delivering the highest standard of excellence is the driving force behind GlassCrafters. For 20+ years, GlassCrafters has been satisfying architects, designers, contractors and homeowners looking for unique custom solutions. Our finest quality glass products are coupled with outstanding service and unmatched industry expertise. Let us help you make your vision a reality.
Our line of Mirrored Cabinets is designed to enhance and complement any luxurious bath or powder room. Matching wall mirrors are sure to be the focal point of whatever room or hallway they occupy. We also offer an extensive array of custom designed Shower Doors in styles and that will turn any ordinary bath into an extraordinary one. Our skillful team of artisans can create Architectural Glass solutions that are truly works of art for residential and commercial applications.
Full Service: Measure, Deliver & Installation
Orders
Orders are taken by Grandior from the client with provided rough measurements and pictures.
Measuring
Enclosures are measured according to walls/openings. If walls or bases are out of plumb or level, glass is custom cut to compensate. No channels are required to make glass square. Because measuring is done by GlassCrafters and not sub-contracted to a third part, it is done more promptly and more precisely.
Design
GlassCrafters offers free computer designs with multi installation options and overhead views to help consumers make more intelligent installation decisions. Custom sandblasting and architectural designing are available upon request.
Delivery and Installation
Due to the fact that we do our own installations and do not sub-contract the job to a third party, we offer a full one-year warranty on all installations.
Extreme care and safety is part of our installation service. GlassCrafters technicians are factory-trained employees; we do not sub contract our installations to third parties. GlassCrafters is fully insured and guarantees the safest installations with a two-man team. We do not charge extra for a second technician. We use high quality, padded moving blankets to protect homes and bathrooms – ensuring customer satisfaction. We leave our work area clean and sparkling.
GlassCrafters installation package delivers the most unsurpassed value. Unlike other companies, GlassCrafters includes the following services as part of our basic-installation.
Grinding and notching for decorative tiles & borders
Drilling into granite or porcelain tile
Grinding buttresses
Notched glass panels
Buttress charges
Tapered fillers
Extra width units
Angled ceiling units
Frameless glass clips
One-year guarantee on installation/labor
Our 2 to 3 week turn around time is unattainable by our competitors.
Design Services
Our team of specialists works closely with architects and interior designers on every project involving glass product. We provide consultations and expertise on every stage of construction projects. Whether it is initial planning or final stages of construction, any issue can be resolved, any problem has a solution.
All blueprints received by the design team gets thoroughly examined and the best expertise is given to match the needs of the customer. Grandior helps architects to plan bathrooms, set the locations and configuration of shower enclosures, helps interior designers to combine the best possible accessories, select the glass and hardware finishes. Our experienced specialists help you to navigate through the vast variety of different styles and model lines even before the construction is started.
Programs such as Autocad and SolidWorks are used on daily bases to model and to design product of any level of sophistication. GlassCrafters offers free computer designs with multi installation options and overhead views to help consumers make more intelligent installation decisions. Custom sandblasting and architectural designing are available upon request.
Click Here To Download GlassCrafters Custom Shower Door Brochure
Click Here To Download GlassCrafters Quick Quote Sheet
Click Here To Download GlassCrafters Measuring Guide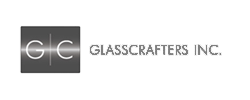 ---
Frameless, semi-frameless or framed? How do you choose? It's a matter of personal taste, but our design staff will also take a closer look at your project space and help you decide which type of door will work best. The size and location of your space, tub or shower, even the weight of the glass will affect your decision. Rest assured, with GlassCrafters, you'll find a door that will be both beautiful and functional.
Frameless
GlassCrafters frameless shower enclosures provide a superior look, sturdier operation and dependable design, which are easier to clean and maintain.
---
Semi Frameless
GlassCrafters Semi frameless shower enclosures offer a clean alternative to bulky aluminum framed shower enclosures.
---
Framed
Pure solid brass frames are meticulously plated to complement your bathroom fixtures.
---
WHEN YOU REQUIRE EXCELLENCE, YOUR CHOICE IS GRANDIOR!
DISCOVER HOW WE CAN BRING YOUR DREAMS TO REALITY.
WE LOOK FORWARD TO INTRODUCING YOU TO THE WORLD OF GRANDIOR IN PERSON.